Cette cuvée est élaborée à partir de nos plus belles parcelles de meunier dont la sélection s'effectue par dégustation de baies. Ce blanc de noirs d'une richesse aromatique étonnante et d'une réelle élégance, allie fraîcheur, fruité et puissance.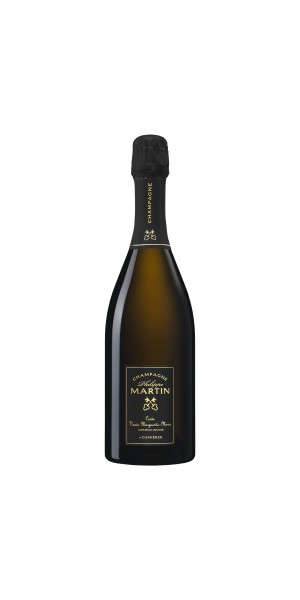 Coming from the harvest 2015, this cuvée is composed of one single grape variety: the pinot meunier.
The wine was bottled on the beginning of the year 2016 after several months of ageing in our caves
A beautiful pale gold color.
On the nose, toasted bread, peach, apples and baked fruits notes. In the mouth, it's reveals delicious peaches and biscuits aromas.
The lingering taste is fresh and elegant, sharp and intense. The end note is energetic and powerful.
We suggest a service to 8/9 degrees with toasts of dried tomatoes, sushis, Saint Jacques roasted, a net of halibut in the Espelette chili, one salmon tartar in the pink bays, a soft goat cheese and the supreme sound of clementine, a Bavarian cream in the peach , a brochette of tropical fruits (mango, orange, pineapple, papaya…).
* Guide Gault &Millau 2017
* Silver medal in the competitionn of the independent wine growers 2017