Reduction of phytosanitary products (use of organic methods, limitation of herbicides, tillage)
Anxious to preserve our terroir and to guarantee an exceptional champagne, we have committed ourselves to a "sustainable and reasoned" management of our vineyard, resulting in two certifications: High Environmental Value (HEV) and Sustainable Viticulture in Champagne (VDC)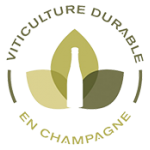 This is a voluntary approach implemented by the winegrower which aims to identify and promote practices that are particularly respectful of the environment.
It is based on indicators and a requirement of results that cover the entire farm.
These certifications commit us to a level of excellence in 4 main areas:
Preservation of biodiversity (Cover crops of our plots, installation of hedges and shrubs)

Reduction of phytosanitary products (no herbicides, tillage)

Fertilisation management

Water Management (Viti and Viniculture Effluent Management)
These certifications make it possible to reduce to a minimum the pressure of winegrowing practices on the environment (air, climate, water, soil, biodiversity, landscape).